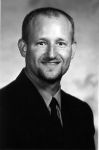 Guest Column written by Troy A. Ruehrmund, Board Chair of United Way of Marion County.
As National Volunteer Appreciation Week approaches, I've realized how inspired I am by our local volunteers. They help in so many ways: coaching sports and mentoring children, helping neighbors file their taxes, cleaning up parks, responding to disasters, stocking food pantries, lending a helping hand to seniors, supporting church and service club programs, championing the arts, assisting in our schools, serving on boards and advisory committees, and so much more.
Volunteers give their time, skills, energy and wisdom freely. They expect nothing in return but that good feeling that comes from knowing you've made things a little better. They not only magnify what our non-profits are able to do by providing many extra pairs of hands, but volunteers' passion, enthusiasm and commitment bring something special to every task and project. Volunteers are indeed exceptional people with extraordinary hearts.
As the current chairman of the United Way Board of Trustees, I'm proud to tell you about a new collaboration between the Marion Area Chamber's 2011-2012 Leadership class and United Way that will make it easier than ever to volunteer in our community. We joined forces to create a one-stop, online shop for volunteerism in the Marion area. Housed on the United Way website, the web page will help both those wanting to volunteer and those with volunteer opportunities to connect.
United Way believes that real change requires resident participation through giving of resources, advocating for what's right and volunteering to make it happen. Helping people to figure out how they want to participate is a big part of United Way's work. And for volunteers looking for local opportunities, United Way's array of agency partners and programs represents a treasure trove of meaningful chances to make things better.
By combining volunteers' passion and energy with donor dollars and advocacy, there really is no limit to what we can accomplish.
On behalf of the United Way Board of Directors, I want to thank the many thousands of Marion citizens, including our youth, who volunteer each year to make our community a great place to work and live. To find out how you can volunteer or to share a volunteer opportunity, visit www.unitedwaymarion.org or call 740-383-3108.
Respectfully submitted,
Troy A. Ruehrmund
Board Chair
United Way of Marion County