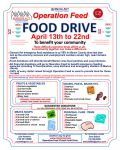 Marion ACT kicked off their community-wide food drive, Operation Feed, Friday, April 13. The food drive will run through April 22. Last year's effort resulted in the donation of over 24,000 pounds of food and over $8,000. The group hopes to surpass those amounts this year.
Food and cash donated will help local food banks who are affiliated with Mid-Ohio Food Bank. Those groups include St Paul's Episcopal Pantry and soup kitchen, Kirkpatrick Church of Christ Food Pantry, Salvation Army Food Pantry and soup kitchen, Victory Center Food Pantry, Good Shepherd Food Pantry, Life Link Food Pantry, Johnson-Rudd Pantry, Gethsemane Lutheran Food Pantry: Marion Men's and Women's shelters, Turning Point, and The Marion Senior Center.
All collected food stays in Marion and all money donated is tax-deductable and goes to Mid-Ohio Food Bank to offset the cost of food for a local agency.
While food is always wanted and needed, cash donations can actually provide a bigger impact. A single dollar will purchase three meals or eight dollars worth of groceries for a pantry. This is due to the purchasing power and partnerships provided by Mid-Ohio Food Bank.
Cash donations can be made at all locations of Fahey Bank, Commercial Savings Bank, Ohio State Bank, and Marion Community Credit Union. You can also donate online at www.marionact.org.
Mid-Ohio Food Bank distributed over 1,597,000 pounds of food including over 636,000 pounds of produce for Marion in 2010. There were 65,945 requests for food in 2010 with nearly 50% of those requests for seniors and children.
Drop off boxes for food donations are located in dozens of locations around Marion. You can click on the image above for ideas on what food is the most needed.
For more information on Operation Feed or Marion ACT, you can contact Julie Newland at 740-361-6696 or jnew6990@msn.com. You can also find them on Facebook or at www.marionact.org.