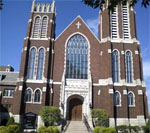 Emanuel Lutheran Church will hold their 15th Annual Thanks & Giving Dinner on Thanksgiving Day, Thursday, November 22, 2012, from noon until 4:00pm in their parlors at 241 South Prospect Street in Marion. This is a free Thanksgiving meal open to the public.
Those who attend will receive a full Thanksgiving meal including turkey, ham, mashed potatoes, sweet potatoes, green beans, and pie.
"What began as a conversation between families has turned into a beautiful gift to thousands in the community," says Daniel Bradshaw, Director of the Parish Communications Board. "Everyone should be able to enjoy a good meal on Thanksgiving surrounded by warmth and fellowship with others. And that's what people get at the Thanks & Giving Dinner each year."
Several thousand free meals have been served at this event over the past 14 years. Emanuel members and others from the community donate food and funds as well as their time to make it all happen. This year, supplemental funding for this Care in Communities project is being provided by the Central Ohio Four County Chapter of Thrivent Financial.
Serving the Marion community is nothing new at Emanuel, where their food bank has helped thousands more over the years. Each summer they join with other area churches for a community youth day with free food, backpacks, and school supplies to help children as they go back to school.
Anyone without transportation can preorder home delivery by calling the Emanuel Office (740-383-2184). Pick-up orders are available and must be preordered as well. Deadline for preorders is noon on Tuesday, November 20th.
For more information on the Thanks & Giving Dinner or anything at Emanuel, contact the Emanuel office at 740-383-2184 or visit them online at www.emanuellutheran.net.
Emanuel Lutheran Church is located at 241 South Prospect Street in Marion and offers weekly worship Sunday morning (8:00am and 10:30am traditional, 9:30am contemporary) as well as Sunday School at 9:15am, and Thursday Praise Service at 7:00pm.
Similar Posts: