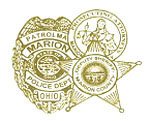 On March 1, 2013 at around 1:00am, members of the METRICH / MARMET Drug Task Force along with the Marion County Sheriff's Office and the Marion Police Department stopped a vehicle in the 1500 block of Victory Road.
Detectives say they spoke to the passenger, Herman Crump, and, during a subsequent search, located evidence that Crump was selling marijuana. Crump was arrested and while searching him officers say they located more marijuana as well as prescription pills.
MARMET officers say they located 32.7 grams of marijuana, 60 Percocet pills, and 50 Vicodin pills. Approximate street value of the drugs is $2,000
Crump, age 27 of Detroit, MI, was taken to the Multi-County Correctional Center on initial charges of Aggravated Trafficking in Drugs and Trafficking in Marijuana. The case is being forward to the Marion County Prosecutor's Office for the filing of formal charges.
"The METRICH / MARMET Drug Task Force will continue to give great effort into catching those that sell drug in our community," said Lt. Chris Adkins.
Anyone wishing to leave information on a drug house may call the Tips Line at 740-387-TIPS.
Similar Posts: