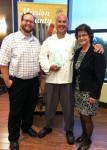 In recognition of travel and tourism's tremendous economic, social and cultural impact in Marion County, the Marion Area Convention and Visitors Bureau recently hosted a breakfast in the Guthery Room at OSUM, to honor those who work to foster tourism in the Marion area.
Hospitality industry, business professionals and volunteers attended the annual breakfast, which recognized the many helping hands of the CVB, and those on the frontline of customer service to the thousands of visitors to the Marion community in the past year.
Each year the CVB presents the Customer Service Star Award to one group or individual in the hospitality and service industry that best exemplifies customer service. All of the nominees are very deserving and can be called winners without the award. They were nominated because someone observed them doing their jobs well. They each received a "Marion, Ohio – You'll Feel Right At Home" pin from the Marion Area Convention and Visitors Bureau that commemorated their nomination.
This year's nominees were:
Shannon Stark, owner/manager Scioto Shoe Mart
Bobby Petrovski, owner Circa
Linda Steed, breakfast hostess Country Inn and Suites
Cheryl Van Voorhis, Administrative Legal Assistant for Attorney Todd Anderson
Andrew Swartz, owner Andrew's Pastries
Missy Meddings, co-owner Ta Die For Gourmet Cupcakes
The Staff of Best Western Plus University Inn
Unfortunately only one winner can be named, and for the 2012 Customer Service Star Award, Andrew Swartz owner of Andrew's Pastry was named the recipient.
Nomination comments Swartz garnered include: "The service he provides to Marion is in the detail to his craft, and the attention he gives to his customers. The familiar pink box brings smiles to all for the donuts, cookies and cakes. And with the great staff, the quality and dedication to service he and his staff provide is unbeatable."
"All of the many frontline people are the champions that need to be recognized. They are really the ones who leave customers and visitors alike feeling they have had a great experience in Marion," said Diane Watson, Director of the Marion Convention and Visitors Bureau.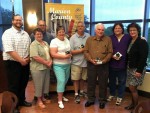 The Marion Area Convention and Visitors Bureau also awarded the Marion County GeoTrail Committee with the Community Ambassador Award. As nominees, they were instrumental in facilitating the implementation of the Marion County GeoTrail with the kickoff in late October of 2012. Their hands-on guidance, group attack approach of the project made it possible to implement the elements in a timely manner. Their focus was on the fun and adventures visitors could encounter while doing the geotrail in Marion County.
The tourism breakfast also shared the eighth year of the Marion's Amazing Treasures playing card and the historical value of learning about what is in your own back yard.
The Marion Area Convention and Visitors Bureau mission is dedicated to promoting the Marion area's many historic and unusual attractions, with the purpose being to bring economic growth to the Marion area. The CVB says tourism dollars spent by travelers produce a ripple effect that is felt through every aspect of the Marion area and beyond.  Visitor spending strengthens Marion's economy by creating jobs, supporting local businesses from gas stations to retail stores, and creating greater tax revenues in support of our community
Similar Posts: