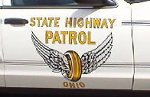 The Marion Post of the Ohio State Highway Patrol says a two-vehicle crash that occurred on State Route 529 south of Marion-Edison Road claimed the life of a motorcyclist. The crash occurred at approximately 12:27 pm on Thursday, September 5, 2013.
Troopers say the crash involved a 2008 Yamaha Motorcycle YZFR6/S driven by 27 year-old Nicholas J. Worden of Marion. The second vehicle was a 2002 Chevrolet Truck 2500 series driven by 29 year-old James R. Ryan of Marion.
Preliminary investigation indicates Worden's motorcycle was traveling northbound on State Route 529 and failed to negotiate a curve. The motorcycle traveled left of center and struck the southbound truck driven by Ryan. Worden's motorcycle came to rest on the east side of the roadway. He was wearing a helmet.
Worden was transported to Marion General Hospital by Marion Township EMS where he succumbed to his injuries, the Patrol stated. Ryan was not injured as a result of the crash.
The State Highway Patrol was assisted at the scene by Marion Township Fire and EMS.
The crash remains under investigation.
Similar Posts: