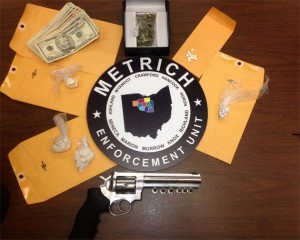 Detectives from the MARMET / METRICH Drug Task, along with the Marion Police Department and the Marion County Sheriff's Office, searched two apartments on Libby Lane in Marion. The search on Wednesday, January 29, 2014, resulted in two arrests and a large amount of drugs seized.
The first search was on an apartment in the 280 block of Libby Lane. During this search, detectives said they found a small amount of heroin, drug paraphernalia, and a stolen revolver. Darrin Potts, 26, of Marion, was arrested on charges of trafficking in heroin and possession of heroin.
A second search was conducted in the 260 block of Libby Lane. During this search, officers said they located heroin, a large amount of crack cocaine, Ecstasy, and prescription pills. Brian Horton, 30, of Marion, was arrested for trafficking in heroin, possession of heroin, possession of crack cocaine, aggravated possession of drugs, and an outstanding warrant.
Overall, investigators said they seized a .357 Revolver, nearly 2 ounces of Crack Cocaine, 2.3 grams of Heroin, and 7 pills.
"This is another good example of great police work and community involvement," stated Lt. Chris Adkins of MARMET. "I urge members of the community to get involved and call the TIPS line. A message can be left on the TIPS Line by calling 740-375-TIPS."
Similar Posts: