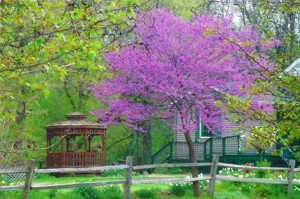 The landscaped and natural areas around Trella Romine's former home, Terradise, now a nature center, will be open for a yard and plant sale and the annual spring tour on Sunday, April 23 from 1 to 5:00 P.M. Terradise is located southwest of Caledonia eight miles east of Marion.
When Ray and Trella Romine purchased the 18-acre property and built their home on the banks of the Whetstone/Olentangy River, they felt they had found heaven on earth. Ray coined the word "Terradise" to express that sentiment. It also fulfilled Trella's childhood ambition to "live in on a hill, in a woods, by a river."
One of the attractions is the variety of spring wildflowers.  Terradise already had spring beauties, trout lilies, wild hyacinths, trilliums, Virginia bluebells, wild ginger and violets and Trella visited neighboring woods for other species native to the area. Now fifty species of spring wildflowers are found here. There are twenty species of native trees, and twenty more species have been planted. Terradise has been named an Ohio Natural Landmark by the Division of Natural Areas and Preserves of the Ohio Department of Natural Resources.
To reach Terradise from State Route 309 at Caledonia turn south on State Route 746. Where it turns left continue straight ahead on Whetstone River Road North, passing the curve at the Thew Cemetery. Terradise is the second house on the right at 1536. Parking is across the road from the house. Gale Martin of Natives in Harmony will offer native plants and herbs for sale.
Visitors may also tour the Terradise Nature Preserve, a site of the Marion County Park District, across the river from the house. It has graveled access, a parking lot, and shelter house. Paths lead along the river and through the woods. The preserve is located at the dead end of Marion-Williamsport Road off State Route 746 one mile south of Caledonia. It is also a geocache site and is open daily from sunrise to sunset. This 14-acre preserve is a gift of twelve acres from Romine and two acres from Ralph Boger.
For more info phone 513-484-9729 or E-mail David Haldeman (haldemandavid@gmail.com)
Similar Posts: