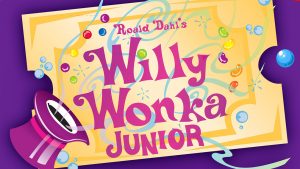 Under the direction of Kristi Wink, "Willy Wonka, Jr." will be performed on the historic Marion Palace stage on Friday, October 6 at 7:30pm, Saturday, October 7 at 7:30pm and Sunday, October 8 at 2:00pm. Starring over 80 local children ages 8 to 14 years, this adaptation of Roald Dahl's famous tale features enchanting scenery, dancing Oompa Loompas, and memorable songs including "Pure Imagination," "I Want It Now," "Candy Man," and "Burping Song."
Among the large cast of actors the well known tale stars Willy Wonka (played by Jahki Henderson) as he stages a contest by hiding golden tickets in five of his scrumptious candy bars. The winning children earn a free tour of the Wonka factory, as well as a lifetime supply of candy. Four of the five winning children are insufferable brats, but the fifth is a likeable young lad named Charlie Bucket (played by Brody Cahill), who takes the tour with the company of his equally amiable grandfather, Grandpa Joe (Derek Schoch). Accompanying Charlie on his journey through the chocolate factory will also be Carter Rawlins as Augustus Gloop, Sami-Kay Mergy as Mrs. Gloop, Zane Menzie as Mike Teavee, Kylie Klaiber as Mrs. Teavee, Macie Snyder as Violet Beauregarde, Abby Isler as Mrs. Beauregarde, Shelby Stimson as Veruca Salt, Isaiah Wasserbeck as Mr. Salt. Along the way, the children learn to follow Mr. Wonka's rules in the factory – or suffer the consequences.
Supporting roles cast in the production are Chase Osborne as Candy Man, Nathan Rabun as Mr. Bucket, Mallori Ballinger as Mrs. Bucket, Gabby Cametti as Phineous Trout, Katie Shoaf as Grandma Josephina, Brooklynn Short as Grandma Georgina, Kade Ebert as Grandpa George, Joey Karrick as James, Anna Songer as Matilda.
Rounding out the talented cast are Cooks, Squirrels, Candy Man Kids and Oompa Loompas are Rebecca Baldinger, Mallori Ballinger, Hailey Baker, Landon Bauer, Emmaly Bennett, Kaia Berry, Madelyn Cheney, Emma Chiles, Isabelle Combs, Patrick Cooper, Abby Coyan, Carly Cruse, Liam Curtis, Macyn Danals, Jadyn Darling, Kade Ebert, Morgan Elliott, Reagan Fitsko, Jaylyn Fogle, Emery Gorenflo, Emily Holsinger, Liam Honey, Kennedy Hummel, Reagan Hummel, Meghan James, Julian Johnson, Joey Karrick, Abbey Knight, Ian Linville, Rose Linville, Vivienne Linville, Marissa Loyer, Brennan McCoy, Quinn Menzie, Landon Mohn, Megan Montgomery, Landon Moore, Madison Moore, Kylee Mosley, Ariana Osborne, Chase Osborne, Colette Osborne, Elise Osborne, Jayde Pineda, Nathan Rabun, Emily Ratliff, Hillary Rawlins, Scarlett Roston, Sophia Ruth, Elli Schenk, Halli Schenk,
Emiley Schuster, Katie Shoaf, Brooklynn Short, Audrey Simon, Anna Songer, Regan Stanley, Reese Thompson, Meleah Tway, Brooklyn Wallace , Waverly Werling, Katelyn Wicker and Ruby Williams.
Patrons attending the final performance of WILLY WONKA, JR. may also purchase a separate ticket in advance to the kid-friendly Oompa Loompa Luncheon in the May Pavilion which begins at 12:30pm. Attendees will enjoy a kid friendly meal while getting autographs and taking photos with cast members. Tickets for the luncheon are just $6 and must be ordered in advance.
Adding to the fun of the event will be a "Willy Wonka Candy Shoppe" in the concession room and a "Golden Ticket" drawing. Those interested may enter to win a $50 gift card from Shirks Candy. One winner's name will be drawn at each performance.
Performance dates and times for WILLY WONKA, JR are Friday, October 6 at 7:30pm, Saturday, October 7 at 7:30pm and Sunday, October 8 at 2:00pm. For the best seats, order your tickets early in person at the Palace Theatre Box Office, 276 W Center Street, by phone (740) 383-2101 or online www.marionpalace.org. Ticket prices for the show are $18 adults, $12 children age 12 & younger. Oompa Loompa Luncheon tickets are $6.
WILLY WONKA, JR. is sponsored by Jim & Barb Greetham.
Similar Posts: