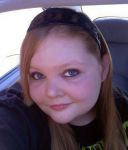 Kasarah Elizabeth Darst-Carr, age 18 of Marion died unexpectedly at Riverside Methodist Hospital in Columbus after a brief illness. She was born November 27, 1992 in Marion to Judy Carr and Elmer David Darst.
She had been a student in the Elgin local school district until her freshman year when she went to Harding High School, graduating in the top 50 of her class of 2011.
Kasarah intended to go to school to be a lab tech, having enjoyed being in the Health Tech program at Harding High School. She enjoyed taking pictures and loved her dog and cat, Max and Jingles.
Kasarah described herself as being funny, caring, random, could be sweet and could be a b**ch; her favorite colors were lime green, black, blue and red; and her favorite foods were Chinese, Mexican and chicken. She had some favorite quotations, among them were "If you want something, take it" and "Live well, laugh often, love much".
She is survived by her mother, Judy Carr, Marion; her father, Elmer David Darst, Delaware; her maternal grandmother, Mary Carr, Prospect; her paternal grandmother, Eileen Darst, Delaware; brothers, David Allen Darst, Van Wert; Shane Darst, Delaware; sister, Elisha Darst (Josh) Chillicothe; special friends, Judy Scheff, Ciera Lynn Chamberlin and Paul Schwenning, who never left her side; and Codi Kitts
She was preceded in death by a brother, Jason Carr.
Funeral services will be Tuesday, November 1, 2011 at 11:00 AM in the Prospect United Methodist Church with Pastor Rich Allen officiating. Burial will follow in Prospect Cemetery. Friends may call from 5 to 8 on Monday in the Stofcheck-Ballinger Funeral Home, Prospect.
The family would like to thank all the doctors, nurses, staff and volunteers that helped them during their time of need at Riverside Hospital, as well as all of their friends and family members and Kasarah's Facebook friends for their support, prayers and kindness.
Memorial gifts may be made to Shriners Hospitals for Children, International Headquarters, 2900 Rocky Point Dr. , Tampa, FL 33607 or the Prospect United Methodist Church, 203 N. Elm Street, P. O. Box 6, Prospect, OH 43342.
Condolences and remembrances may be expressed at www.stofcheck-ballinger.com
Similar Posts: