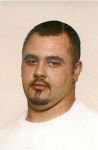 Jeremy T. Jones age 29 of Marion, Ohio, passed away Wednesday March 28, 2012 at the Riverside Methodist Hospital in Columbus, Ohio.
He was born June 15, 1982 in Marion to Sandy (Jenkins) Jones and the late Thomas Jones. His mother survives in Marion.
Jeremy was a graduate of River Valley High School in 2000 and a graduate of the University of Phoenix in 2011.
Jeremy is survived by his wife Amanda (Dutcher) Jones and their three children; Haleigh, Brayden, and Maleigha. Also surviving are grandparents; Doris and Bill Faulkner, eight brothers and sisters, Aunts, Uncles, and Cousins.
Besides his father, he was preceded in death by his Maternal grandparents, four Uncles, and one Aunt.
Funeral Services for Jeremy will be Tuesday April 3, 2012 at 10:30 A.M. at the Boyd-Born Funeral Home. Officiating the service will be Pastor Ryan Strothers. Burial will follow in the Caledonia Cemetery. Friends may call at the funeral home on Monday April 2, 2012 from 5 to 8 P.M.
In lieu of flowers contributions can be made to the family in care of the funeral home. On line condolences can be made at www.boydbornfuneralhome.com.
Similar Posts: