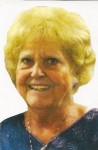 Marilyn June (Hughes) Fremont, age 80 of Marion, passed away at her home on Saturday, December is, 2012.
Marilyn was born November 30, 1932 in Morral, Ohio, daughter of William and Myrtle (Fultz) Hughes.
After graduating in 1950 from Morral High School, Marilyn attended Ohio Northern University intending to enrich her gift and love of music by becoming a music teacher. However, that dream eluded her when the other love of her life asked her to run off with him. She married Robert Max Fremont March 19, 1951 in Indiana and he preceded her in death March 4, 1997.
She ran a Contract U.S. Mail Route for 12 years, was a delegate to Lakeside for 5 years for her Church, and served as Secretary of the Morral Alumni Association for 4 years. She also volunteered and enjoyed reading books with the children at Morral Elementary School. She was a faithful member of the Morral United Methodist Church where she played organ for over 20 years, and she was loved and cherished by her church family.
She is survived by one sister Elizabeth (Betty) Washburn, four children Jeffery Fremont, Rick (Kathleen) Fremont, Malia (Bill) Freeman all of Marion, and Rock (Mary) Fremont of Laveen, Arizona. A brother, Merald Hughes and two sisters, Grace Miner and Edythe Campbell, preceded her in death along with an infant son, Rodney J. Fremont and a grandchild, Christopher Fremont.
Also surviving are eight Grandchildren, Kristen Fremont of Findlay, Ohio, Kari Fremont of Portland Oregon, Tyler (Heather) Fremont of Troy, Ohio, Trevor (Candace) Fremont of New Bloomington, Ohio, Shelby (Kyle) Brammell of Kenton, Ohio, Rock Fremont Jr. of Phoenix, Arizona, Tom Garner, and Tim (Laura) Garner both of LaRue, Ohio. Nine Great Grandchildren, Aurora Fremont and Cayle Greer, Taylor, David and Renee Fremont, Waylon, Winston, and Weslyn Fremont, Brooke Brammell, and special friends, Robert (Peggy) Zinn, faithful neighbors, Tom (Helen) Mathys, along with so many other loyal comrades.
Music was one of Marilyn's greatest joys in life, playing trumpet, French Horn, piano, organ, and accordion. She had a special gift from God and learned to play by ear as well as reading music. She composed and performed many songs over the years; to share these, is a gift to us and a legacy to future generations. Besides playing at her church, she also sang in many Choirs, and played for numerous weddings and funerals. She sang with her dear friends, Doreen Harriman and Carol James for over 50 years in a trio known as the Tri-Tones and performed at many events and nursing homes over the years. Her music may have been silenced in this life, but it will live on forever in the hearts of those that loved her.
She believed God put many people in her path who were in need, whether He used her to listen, to give advice, or provide a roof over their heads, she was honored to serve Him in whatever capacity she could.
She loved to crochet and sew and made many quilts, rugs, potholders, etc. to share with friends and family. She looked forward to hosting dinners every Easter, Thanksgiving and Christmas for the past 55 years and loved her children, grandchildren, and great grandchildren and was proud of each one of them. She will be sadly missed by her family and friends, but we will find peace in knowing that she is rejoicing in Heaven with her Lord and Savior and has been reunited with her family and friends once again.
Funeral services for Marilyn will be on Thursday, December 20, 2012 at 11 AM at the Morral United Methodist Church in Morral, OH.  Officiating the service will be Reverend Ralph Velazco.  Interment will follow in the Grand Prairie Cemetery.  Friends may call at the Boyd-Born Funeral Home on Wednesday, December 19, 2012 from 4- PM.
In lieu of flowers, contributions can be made to the Morral United Methodist Church or to donor's choice.  Condolences may be expressed to the family at www.boydbornfuneralhome.com
Similar Posts: