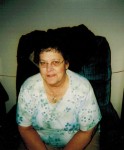 ILene R. Eckard age 72 of Marion, Ohio, passed away on Sunday January 19, 2014 at her residence.
She was born March 20, 1941 in Marion to the late Ivan E. and Betty Jane (Miller) Stithem.
On August 31, 1957 in Marion, Ohio she married Robert Gene Eckard, Sr. and he preceded her in death on February 12, 2007.
ILene was a bus driver for twelve years for the Marion Area Transit System. She loved Elvis and loved to play softball. She played softball from a young age to well into her fifty's.
ILene is survived by two daughters and two sons; Robin (Dan) Eckard-Schuler of Marion, Ohio, Evangela Sue Eckard-Morrison of Marion, Ohio, Robert G. Eckard, Jr. of Marion, Ohio, and Edward E. Eckard of Marion, Ohio. Nine grandchildren and ten great-grandchildren survive as well as three brothers; Dallas Stithem of Tn., Ivan Stithem of Marion, Ohio, Bill Stithem of Ga., and numerous nieces and nephews.
Besides her parents and her husband, ILene was preceded in death by a daughter, Christina Dawn Eckard and five sisters.
Funeral Services will be on Saturday January 25, 2014 at 12:00 Noon at the Boyd-Born Funeral Home. Officiating the service will be Minister Steve Phillips. Burial will follow in the LaRue Cemetery. Friends may call at the funeral home on Saturday two hours prior to the service from 10 to 12 P.M.
In lieu of flowers contributions can be made to the Donor's Choice. On line condolences to the family can be made at www.boydbornfuneralhome.com.
Similar Posts: