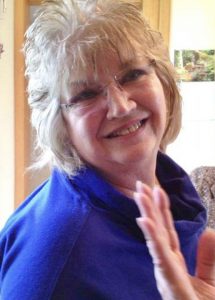 Linda S. Parsons, 71 of Marion passed away unexpectedly Monday, February 13, 2017 at Marion General Hospital following a 4-year illness.  She fought a courageous battle and had been a pillar of strength to her family.
She was born June 1, 1945 in Marion to Abram N. Ransome and Ruth E. (Shields) Ransome Webb.  She was preceded in death by her father and her step-father, Leonard Webb Sr.
She was a member of the First Baptist Church in Richwood.  She worked for Honda of America in Marysville as a Safety Coordinator for 10 years.  She had been an over-the-road truck driver with her husband for Fed Ex, frequently making trips to California.  She was known for being good at going forward, but had trouble backing up.  She and her husband owned and operated Mikey's in Marion for 9 years, which later transformed into the business of Beer Bubbles.
Linda was the kind of person who loved to have fun.  She worked for the Marion County Big Brothers and Big Sisters, where she was also a Big Sis.  She was an animal lover, especially cats, and her dog, Sadie that she rescued from the roadside while traveling near St. Louis.  Linda was an avid Ohio State Buckeyes fan.  She was a dedicated mom, never missing any of her kids' activities.
On July 20, 1993 she married the love of her life, Mike R. Parsons and he survives in Marion.  She is also survived by a son, Jeff (Theresa) Miller, Marion; two daughters, Char Hill, Marion; Darcy (Jamie) Blair, Kent, Washington; eight grandchildren, Brandy, Jacob, Anita, Ricky, Robby, Samantha, Stevie Marie, Donovan; eight great-grandchildren; her mother, Ruth E. Webb, Richwood; three brothers, Charles Ransome, Richwood; Len (Bev) Webb, Marion; Bob (Vicki) Webb, Marion; a sister, Pat Kyle-Beatley, Richwood and many nieces and nephews and dear friends.
A memorial service will be held Thursday, February 16, 2017 at 7:00 PM at the Stofcheck-Ballinger Funeral Home, Richwood with Pastor Brian Owens officiating.  Friends may call the same day from 4 to 7 PM at the funeral home in Richwood.
Memorial gifts may be made to the Marion Area Humane Society, 2264 Richland Road, Marion, OH 43302-8475.
Condolences and remembrances may be expressed at www.stofcheck-ballinger.com
Similar Posts: