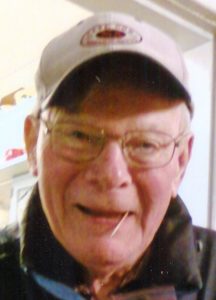 Kenneth Jay Stanley, age 84 of Marion, passed away on Tuesday morning, March 14, 2017 at Marion General Hospital.
Kenneth was born on October 7, 1932 in Marion, the son of Lewis and Violet (Smith) Stanley. Kenneth was educated at the Harding High School and graduated in the class of 1952.
Kenneth proudly served his country during the Korean War, serving in the United States Army.  He was stationed in Austria. Every time he and his twin brother had time off, they took advantage and toured much of Europe.
Kenneth worked hard his entire life. He started by working at the Isaly Dairy, under the direction of Angelo Doria, at the age of 16 along with his twin brother Keith. He later joined the Erie Railroad, working there 3 years. He also worked at BF Goodrich for 12 years and Seton Square for 13 years in the maintenance division. Hard work turned Kenneth into somewhat of an entrepreneur of sorts. For many years, he presided over a number of rental properties. He also created and operated the Marion Floor Cleaning business.
Kenneth loved life and was always a kid at heart; whether it was a practical joke, a story that you just weren't sure was true, or an ice cream sundae topped off with a cherry. He was rarely seen without his trademark toothpick and his slight ornery smile. He was proud of his heritage in Oakland Heights. He was a great lover of history and geography; woodworking was a recent adventure that he pursued with great enthusiasm. With all that life had to offer, time spent with his family was cherished above all; especially the time he spent with his grandchildren taking them to all kinds of different places.
He was united in marriage to Norma Beal, she preceded him in death in 1988. On May 11, 1991, Kenneth was united in marriage to Ruth (O'Hare) Schmidt, they have shared 26 years of marriage.
Kenneth was a member of the First Presbyterian Church of Marion, Marion Evening Lions Club, Marion Cadets Board of Directors, Marion Moose Lodge and a lifetime member of the VFW.
Those left to honor his memory include his loving wife Ruth Stanley; his adored children: Kim (fiancé' Carl Gass) Gentile of Bentonville, AR, K. Jeffrey (Kelli) Stanley of Auburndale, FL and Betsy Stanley of Marion; Pop-Pop to: Jessica (Shane) Yarn, Chelsea Stanley, Dustin Stanley, Tomi (Roy) Cheney, Brenna Jay Emmons, Chloe Violet Emmons, Eric Deese and Krystal (Josh) Smith; a baker's dozen worth of great grandchildren, his sister Rosemary (the late Garry) Curren and numerous nieces, nephews, cousins and dear friends.
Kenneth is preceded in death by his parents; his first wife and mother of his children Norma Stanley; brother Richard and twin brother Keith and sister Carol Lou Tallhamer.
Visitation will be Sunday, March 19, 2017 at First Presbyterian Church, 143 South Prospect St., Marion from 2PM to 5PM; Memorial services will be Monday, March 20, 2017 at 10:30AM at the church with Rev. Rob Howard officiating; Inturnment will be held privately at Marion Cemetery at a later date.
In lieu of flowers, donations may be made to First Presbyterian Church or the charity of choice.
The Snyder Funeral Homes of Marion are honored to be serving the Stanley family; condolences may be expressed to the family by visiting www.SnyderFuneralHomes.com
Similar Posts: