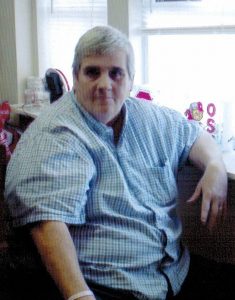 Michael S. Johnston age 65 of Marion, Ohio passed away Wednesday, March 15, 2017 at his residence.
He was born August 29, 1951 in Marion, Ohio to Daniel and Barbara (Cardwell) Johnston, his mother survives in Marion, Ohio.
On February 14, 1981 he married the love of his life, Vicki (Blankenship) Johnston, who survives in Marion.
Mike enjoyed spending time with family and friends. He worshipped his son, Shawn Reynolds and his grandson, Dylan.
Mike is also survived by his sisters, Jean (Joe) Piro, Lisa Meade, his brother, Tom (Ruth) Johnston all of Marion, half sister, Rose (Pat) Maloney of Idaho, sister in laws, Nita Smith and Lynda (Jeff) Schrader both of Marion and numerous aunts, uncles, nieces, nephews, cousins and friends.
Mike was preceded in death by his father, Dan Johnston, his beloved daughter in law, Nancy Reynolds, father in law, Richard "Van" VanWey and his mother in law, Donna VanWey.
Mike graduated for Marion Harding High School in 1970, spent many years working at Whirlpool, The State of Ohio and the Warehouse Auto Parts in Tiffin, Bucyrus and Upper Sandusky. He enjoyed hunting, fishing and talking with the customers he encountered at the Ohio State store. He loved Saturday poker games with his family. You knew Mike liked you if he teased you. Mike had a wit and a sense of humor.
He will be sadly missed by his family and friends- His favorite phrase to his wife and mother was I Love You a bushel and a peck and a hug around the neck.
Visitation will be held Friday, March 17, 2017 from 4 – 7 PM at the Boyd-Born Funeral Home. Funeral services will be Saturday, March 18, 2017 at 10AM at the funeral home with Pastor Lanny Imboden officiating. Burial will follow at Grand Prairie Cemetery.
In lieu of flowers memorial contributions may be made to the family in care of the Boyd-Born Funeral Home. On line condolences may be expressed to the family at www.boydbornfuneralhome.com
Similar Posts: