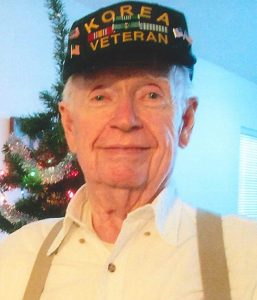 Gaile Alfred Baker, Jr., age 86, of Marion, Ohio, passed away on Monday, May 15, 2017 at Heartland of Marion.
On February 19, 1931, he was born to the late Gaile A. Baker, Sr., and Zelma (Daly) Baker, and on February 12, 1954, he married his wife Mary Jo (Myers) Baker, who preceded him in death on May 15, 2016.
Gaile served in the signal corps of the 45th infantry division of the Army during the Korean War. He worked as a telephone pole lineman, taught the use of radios, and ended up as a sergeant first class, in charge of a unit that drove around South Korea and fixed the many broken radios, including tank radios at the front line. Indeed, he was cited for meritorious service for the many extra tasks and hours he took on to repair all types of signal equipment for tactically deployed units.
Gaile spent most of his career working at the General Telephone Company (now Verizon). He held a variety of jobs, starting as a draftsman and working up to various management positions. A true "car guy" he spent the years before his retirement working as a supervisor in charge of the motor fleet. He was highly valued for his managerial abilities among his employees.
Gaile retired at an early age due to health difficulties, and spent his retirement years going to car races, riding his motorcycle, and volunteering for special projects such as showing people around the Harding Home and the local telephone museum, and delivering meals on wheels. He was an active participant in monthly class reunions of the Harding High School Class of 1949 and in the Korean War Veteran's Association. He also helped out family and friends, and spent time with his wife, children, and grandchildren.
He is survived by his daughters Sharon Baker of Marion, Kathi (Bruce) Holmes of Columbus, and Laurie Baker of Powell; his son K. Scott (Cindi) Baker of Galena, Ohio; his grandchildren Cassie and Samantha Baker and Colleen (Jeff) Watkins; and his great-grandchildren Cameron, Carson, and Colten Watkins.
He was preceded in death by his wife Mary Jo and his parents Gaile, Sr., and Zelma.
Calling hours will be held Friday, May 19, 2017 from 12 PM to 1 PM at the Boyd-Born Funeral Home. Services will take place at 1 PM. Burial will follow at Marion Cemetery.
In lieu of flowers, memorial contributions may be made to the OhioHealth Hospice. Condolences may be expressed to the family online at www.boydbornfuneralhome.com.
Similar Posts: