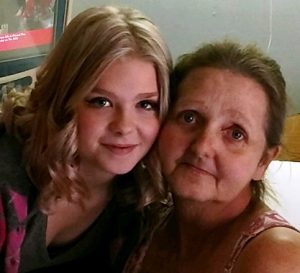 Penny S. McKenzie, age 54, of Marion, died Friday evening, May 5, 2017, at the Kindred Community Nursing Home following a courageous battle with cancer.
On August 3, 1962, Penny was born in Marion, Ohio, the ninth of ten children of the late Harold and Katherine (Zwolle) Crissinger.  She graduated from Marion Harding High School and Tri-Rivers Career Center.
Penny worked as a caregiver with A.W.S. for many years.
Penny married the love of her life, Paul Edward McKenzie Sr., on May 9, 2000.  They shared eleven wonderful years together.  He preceded her in death on October 16, 2011.
Most important of all to Penny was her precious daughter, Aleigha.  Every moment of her life revolved around time with her.
She will be dearly missed by her daughter, Aleigha McKenzie; four step-children: Angie, Sabrina, Paul Edward Jr., and Nickell; grandchildren: Brandon, Kaylee, Kalabe, Nevaeh, Faith, Anthony, and Chase; six siblings: Jack (Wendy) Crissinger, Harold (Gail) Crissinger Jr., Louis Crissinger, Patricia Case, Mary (Billy Brown) Crissinger, and Steve (Cheryl) Crissinger; a sister-in-law, Brenda Crissinger; and numerous nieces and nephews.
In addition to her husband and parents, Penny was preceded in death by three siblings: James Crissinger, Jane Nibert, and William "Bill" Crissinger.
Visiting hours will be held from 4 – 7 p.m. on Monday, May 22, at the Snyder Funeral Homes, DENZER Chapel, 360 E. Center St., Marion.
Memorial contributions may be made to the funeral home to help her daughter, Aleigha.
Snyder Funeral Homes of Marion are honored to have been chosen to serve Penny's family and your condolences may be shared with them via www.SnyderFuneralHomes.com.
Similar Posts: