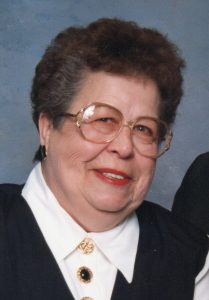 Anna Lou Smith, 86 of Richwood, formerly of Waynesfield, died Thursday, July 13, 2017 at Prestige Gardens Nursing Home in Marysville.
She was born May 25, 1931 in Delaware County to the late Everett Raymond and Fontabell (Shoemaker) Eddy. She was also preceded in death by a daughter, Cheryl English, and a grandson, Frederick Frey.
On October 7, 1946 she married William Clayton "Smitty" Smith, who went to be with the Lord on February 6, 2000.
She will be remembered as a mom and grandma that loved her family and friends. She worked for years as a nurse's aide at Milcrest Nursing Home in Marysville. She then worked for many years as a demo lady at Community Markets in Lima before she retired. Anna was well loved for her pan fried chicken and wonderful potato dumplings; she was a wonderful cook. She attended Waynesfield Baptist Church in Waynesfield.
She is survived by a daughter, Judy Thomas, Avon Lake; a son, William R. (Diane) Smith, Waynesfield; a sister-in-law, Louise Grimes, Columbus; seven grandchildren, Brian (Betty) Frey, Brad (Camilla) Frey, Jonathan Landon, Whitney Johnson, Sheri Smith, Stephanie (Wes) Harris, Julie English; fifteen great-grandchildren, and nine great-great-grandchildren.
Funeral services will be Monday, July 17 at 11:00 AM at the Waynesfield Baptist Church, 512 North Westminster Street, Waynesfield, OH 45896 with Pastor Don F. Smith officiating. Burial will follow in Walnut Hill Cemetery, New Hampshire, Ohio. Friends may call from 2 to 4 on Sunday at the Stofcheck-Ballinger Funeral Home, 201 South Franklin Street, Richwood, OH 43344 and also one hour prior to the service at the church on Monday.
Memorial gifts may be made to Waynesfield Baptist Church.
Condolences and remembrances may be expressed at www.stofcheck-ballinger.com
Similar Posts: