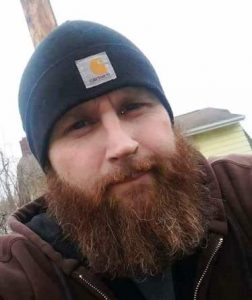 Justin E. Smith, age 35, of Marion, died unexpectedly on Monday, September 18, 2017, from an overdose despite his years of efforts trying to keep his family and friends away from it.
On September 14, 1982, Justin was born in Marion, Ohio, the only son of Harley Smith and the late Rita (Snook) Smith. He also was raised by his neighbor and great-aunt and uncle, Pauline and Herman Parker, who Justin thought of as grandparents.
Justin "was a good kid." He stood up for others, helping people when they were down. He did outreach all over the state of Ohio, advocating against drugs, attending rallies and meetings in hopes of getting through to someone.
Having a fun loving personality, you couldn't help but to love Justin, which also made him a bit of a "ladies man." He also was loved by kids, and he could entertain them for hours.
Justin will be remembered for his love for his family and friends. He cherished his time spent with them, and was always ready for a cookout or get together.
Justin will be missed by his father, Harley (Belinda) Smith; great-aunt: Pauline Parker; sister, Lacey (Michael) Cox; and niece and nephew: K'Lynne and Landon Cox.
Including his mother, Justin was preceded in death by his sister, Autumn Spicer; grandparents: Frances and Charles Snook; and great-uncle, Herman Parker.
His family will greet friends from 1 – 3 p.m. on Friday, September 22, at the Cornerstone Alliance Church, 2010 Marion-Marysville Rd, Marion, OH. Services honoring his life will also follow there at 3 p.m., with Pastor Tim Miller officiating.
Memorial contributions may be made to the funeral home.
Snyder Funeral Homes of Marion are honored to have been chosen to serve Justin's family and your condolences may be expressed to them by visiting www.SnyderFuneralHomes.com.
Similar Posts: