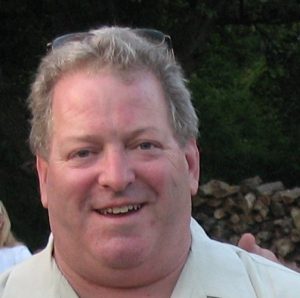 Brent W Yager was born on December 10, 1956 in Marion Ohio and died at home in Caledonia, Ohio on October 3, 2017. He was the third of four children by mother Vella (Thacker) and the late Harry Yager.
He graduated from Harding High School in 1975, and his interest in law led him to attend Muskingum University. While pursuing a bachelor's degree he was elected class president, also receiving the infamous nickname "Harry-O". He continued to follow his passion for law at Case Western Reserve University and achieved a JD (Juris Doctorate).
Brent's career portfolio in law was well rounded. His areas of practice included criminal litigation, civil litigation, and family law. He also served as an Assistant Marion City Law Director, Morrow County Magistrate, and Assistant Prosecutor, Morrow County.
In November, 2008, Brent was elected Marion County Prosecuting Attorney and officially took office on January 2, 2009. Brent embodied what the job represented, his sole (soul) purpose and duty was to protect the community of Marion and he prevailed exceedingly. As the Marion County Prosecutor, he spent endless hours serving the community that he loved. He treated anyone and everyone with fairness and respect and advocated for victim's rights.
When not working, Brent enjoyed gardening, mowing, cooking, and traveling. Brent was an avid and loyal sports fan, following the Cleveland Indians and the Buckeyes. Brent enjoyed being surrounded by family and friends and hosted many gatherings at his country home over the years. He was the life of any party, keeping everyone laughing with his stories and views on life. He was a selfless, humble, and gracious man who always put everyone before himself.
Brent was a beloved husband, son, brother, uncle, and friend and colleague. He is survived by Corrine, his wife of 31 years; mother Vella Yager; sisters Debra Yager, Christina Yager and Mistee Yager; sistersin-law Cathy Gilliam and Natalie Link; nieces and nephew Mason and Paxton Lindsey and Lorraine Davis, great nephew Vincent Davis; along with many aunts, uncles, cousins and good friends.
A Celebration of Brent's life will be held Monday, October 9, 2017, at the Palace Theater Pavilion, 276 W. Center St. in Marion from 5:00 pm to 7:00 pm.
The Boyd-Born Funeral Home is honored to be serving the family. On line condolences may be expressed to the family at www.boydbornfuneralhome.com
Similar Posts: