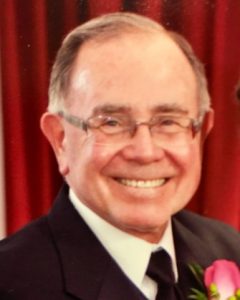 Jasper N. "Jay" Burt, age 76, of Marion, Ohio, was given his wings on Thursday, October 5, 2017, at the Riverside Methodist Hospital surrounded by his loving family following complications from a recent fall.
On December 15, 1940, Jay was born in Baltimore, Maryland, the oldest of three children born to the late Jasper F. and Dorothy Belle (Wise) Burt. As a family, they moved to Marion, Ohio, for his father's executive position with the Whirlpool Corp. He graduated from Marion Harding High School in the class of 1958, where he was a member of the track and cross country teams along with several other sports and activities.
Furthering his education, Jay attended Muskingum College for his undergraduate degree, graduating in 1962, again participating in cross country. He then attended Ohio Northern College, completing his law degree in 1965.
Upon returning home from college, Jay started his legal practice, Jasper N. Burt Law Office, where he proudly served Marion and the surrounding communities for 51+ years. Jay dedicated himself to countless work and civic endeavors, and was hoping to practice for many more years to come.
Jay found a great legal assistant for his practice, Victoria "Vicki" Young, who eventually became his partner in life too. They were married on March 12, 1983, and cherished every moment with one another for their thirty-three years together. Over the years, they shared everything, especially a love of traveling. They shared many unique experiences and adventures on their travels, such as scuba diving, snorkeling, helmet diving in Bermuda, parasailing, and on and on. Their favorite trip together was to Hawaii, and they were each hoping to visit there again. Vicki preceded Jay in death on April 3, 2016.
Always giving back to his community, Jay served and was past president of numerous boards, including Marion Noon Kiwanis and Goodwill Industries. He and Vicki also supported the Salvation Army.
Marrying into the Young family, Jay quickly realized he needed to be an avid Pleasant supporter. He was elected to the Pleasant School Board, serving multiple terms.
A man of deep faith, Jay was an active member of the Marion First Church of the Nazarene, where he served as a deacon.
In his spare time, Jay loved to golf. He had a great group of friends he loved to golf with, and make no mistake about it, Jay always played to win. He even sunk several holes in one over the years. Jay also was an avid sports fan and was one of the Ohio State Buckeye's most enthusiastic supporters.
The most important time of year for Jay was always Christmas time, where he found joy in everything related to the season. He loved putting up Christmas lights and decorating the house. He loved watching everyone open their presents to see their reaction to his thoughtful gifts. He truly made Christmas special for his family, who all meant the world to him.
Embracing every moment with his grandchildren, one of their favorite pastimes together was fishing in the pond behind his home. While they never caught the truly "Big One" the pursuit has created lasting life long memories for the little people in his life.
Putting it mildly, Jay had a zest for life. When he went to Cedar Point, he wanted to ride the biggest and fastest roller coaster. When he played anything, he played to win. Jay lived his life to the fullest, and did so with a joyful spirit that uplifted whoever was in his presence. Jay and his ornery smile and outgoing personality will be dearly missed by all who knew him.
Left to cherish his memory are his three children: Christopher (Lesley) Burt, David (Justina) Burt, and Alissa (Nick) Martin; a step-son, Toby (Lisa) Hensel; nine grandchildren: Reagan, and Grayson Burt, Justin, Madison, and Delanie Burt, Lucas and Lennox Martin, and Jaden and Addison Hensel; two sisters: Dorothy Jean Burt of St. Joseph, MI, and Debra (Burns) Baxter of Nassau Bay, TX; several nieces and nephews; and three special canine companions: China, Bella, and Cookie.
His family will greet friends from 4 – 7 p.m. on Friday, October 13, 2017, at the Marion First Church of the Nazarene, 233 W. Church St., Marion. Services celebrating his life will also be held there at 11:30 a.m. on Saturday, with Pastor Steve deWeber and Dr. Steve Estep officiating. Burial will follow in Pleasant Cemetery. Everything will be completed in plenty of time to get you home to watch the OSU game, which would have been a priority to Jay.
Memorial contributions may be made to the Pleasant Local Schools, Jasper & Victoria Burt Scholarship Fund, 1107 Owens Rd W, Marion, OH 43302.
Snyder Funeral Homes of Marion are honored to have been chosen to serve Jay's family and your favorite memories and condolences may be shared with them by visiting www.SnyderFuneralHomes.com.
Similar Posts: