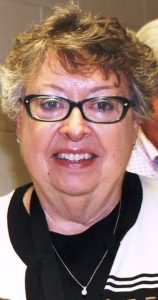 Sharon Flickinger passed away at her home in Marion on Friday, November 10, 2017, aged 75.
She is survived by her husband, William Terry Flickinger; sons Craig (Kathy) Flickinger and Kevin (Melissa) Flickinger; grandchildren Brooke, Bryce, and Whitney; aunt Shirley Grose and many cousins whom she loved; and very special extended family Jim (Pat) Gerfen, Scott Gerfen, Brad (Allison) Gerfen and their son Riley.
Sharon was born on October 15, 1942, in Marion, Ohio, the only child of Mabel (Hamilton) Wright, who raised her, and Jim Wright, both of whom precede her in death. She attended Pleasant High School and graduated in 1960 as a member of the National Honor Society.
Sharon's life was characterized by compassionate generosity and a deep commitment to live life to the fullest and do everything to the best of her ability. She worked as a medical assistant to Drs. Dan and Frank Murphy, caring for the needs of their patients. She curated collections of spoons, bells, giraffe figurines, tea cups, and dolls of Presidents' wives, becoming so knowledgeable about the latter that she was frequently invited to give talks to local clubs on the history of the wives. Her flower gardens at her homes in Marion and at Indian Lake were objects of hard work and sources of great pride, as she worked past dusk, pulling just one more weed before going into the house to start again the next day. She loved to take breaks to talk to passersby about her flowers and landscaping.
She was skilled in sports, becoming the first woman in Marion to bowl a 700 series on September 25, 1979, and later that year was named Bowler of the Year. When she was younger, she played tennis and basketball, and participated in many family games of baseball, horseshoes, and other activities. She never missed basketball and baseball games that her sons played from youth through high school and college, filling notebooks with scoresheets that she kept as she watched. She was an avid fan of the Indians, Cavaliers, Ohio State Buckeyes, and yes, even the University of Michigan, when her son attended college there.
Sharon volunteered extensively and gave her time selflessly to others. At her home church of First United Church of Christ in Marion, she served at various times as chair of the Consistory and Property Committees, co-chair of the Church Social and Basement Sales, organizer of Wednesday Night Neighborhood Suppers, and member of the Senior, Evergreen, and Chime Choirs. She was secretary of the Northwest Ohio Association of UCC for 6 years, a long-time member of Creators Guild, and volunteered for Mobile Meals and worked as its treasurer for several years.
As active as her life was, Sharon took her greatest joy from her family. She was a devoted wife, mom, and grandma, and her heart swelled with pride for all accomplishments, great and small. As her grandchildren participated in sports and music, she attended their events wherever and whenever she could, beaming with pride. In school, she celebrated their A's and encouraged their B's.
Visitation will be Wednesday, November 15, 2017 at Snyder Funeral Homes, DENZER Chapel, 360 East Center St, Marion, from 4pm to 7pm. Funeral service will be Thursday, November 16, 2017 at St Paul's Lutheran Church, 930 Harding Memorial Pkwy, Marion, at 10:30am, with Rev. Gale J. Green officiating; burial will be at Marion Cemetery.
If so desired, donations may be made to the OCWM Fund, Northwest Ohio Association United Church of Christ, 416 Wentz St, Tiffin, OH 44883; or Fairhaven Community Wetzel Special Care Unit, 850 Marseilles Ave, Upper Sandusky, OH 43351.
The Snyder Funeral Homes of Marion are honored to be serving the Flickinger family; condolences may be expressed to the family by visiting www.SnyderFuneralHomes.com
Similar Posts: