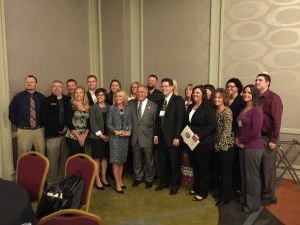 Director Gary Mohr of the Ohio Department of Rehabilitation and Correction recently honored the Marion County Common Pleas Probation Department with statewide recognition. The local probation department was one of two probation departments in Ohio who were presented with the Cliff Skeen Award, which recognizes excellence in community corrections.
The award, which is presented annually, is named after Cliff Skeen, a former eight term Ohio Legislature who sponsored Ohio's Community Corrections Act. The local probation department was recognized for its use of evidence based practices which are designed to reduce recidivism and help offenders become productive citizens. The Highland County Adult Probation Department was also recognized this year.
Common Pleas Judge Jim Slagle and Chief Probation Officer Jennifer Miller accepted the award on behalf of the local department in Columbus at the annual conference sponsored by the Ohio Justice Alliance for Community Corrections. The Common Pleas Court Adult Probation Department is responsible for the supervision of 900 felony offenders who have been sentenced by Common Pleas Judges William Finnegan and Jim Slagle.
"We are honored that the State has recognized the outstanding work our probation officers do every day to help make our community safer," Slagle stated.
"Our mission is to help offenders become successful, productive, law abiding citizens," Miller stated. "One of the keys to our success is our collaboration with law enforcement, the jail, treatment providers, and other community partners."
Slagle stated that the Marion County Probation Department has used state grant funds to add a number of new programs during the last several years, which are designed to improve public safety.
These include:
Seven day per week drug testing;
Re-entry program to hold offenders accountable after they are released from a correctional facility;
Thinking for a Change classes to teach offenders how to make better decisions instead of engaging in future criminal activity;
Medication assisted treatment, so that offenders start drug treatment before they are released from custody.