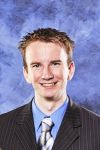 Ridgedale High School student Abbey Larson dons the robe of the Ohio Youth Supreme Court Chief Justice and takes her place on the bench during the 2012 Ohio Youth in Government program. Abbey has participated in the Y's Youth in Government program for 3 years now and plans on running for the Youth Governor position in 2013.
In a world where politics is in front of us every day Y Youth in Government gives the youth of Marion, the entire state of Ohio and throughout the nation, the opportunity to discuss issues of concern to them. Y Youth in Government allows high school students to serve in a model government process at the local, state, national and international levels. Youth in Government was established in 1936 in New York, and as of 2011 it operates in 37 states and the District of Columbia, serving nearly 60,000 high school students. The Ohio program is a full scale 3 days State Assembly, operating a complete model government that offers student delegates the opportunity to serve as members of the Executive Branch, Judicial Branch, Press Corps, and Lobbyist firms. Youth in Government develops personal growth and encourages life-long, responsible citizenship by providing experiential learning for young people and by providing public forums to recognize the abilities and capabilities of youth.
Youth in Government develops and promotes: an understanding of local, state and national concerns; research, study and debate on public issues; exploration of careers in public service; interaction with adult and youth leaders involved in decision-making processes; appreciation for the diversity of viewpoints on public issues and concurrent respect for ideas, beliefs and the positions of others; and demonstration of citizenship responsibilities and leadership roles essential to the health of a participatory democracy.
Youth in Government programs throughout the nation had a key role in lowering the voting age. The "father of the 18 year old vote," the late Senator Jennings Randolph (WV), explained the national impact of Youth in Government during a July 16, 1988 visit with the Youth in Government officers. "A reason I took up the cause of the 18 year old vote was Youth in Government programs across the nation were advocating lowering the voting age. I listened to our young people and decided to support their efforts. I proposed legislation to amend the Constitution. It took me more than 20 years to build support, get the votes and finally achieve success in July 1, 1971, when the 26th Amendment to the Constitution was ratified."
Marion County currently has two Y Youth in Government programs with participation at Ridgedale and River Valley High Schools. Ridgedale is in their third year of the program and River Valley just began this past school year. The Marion Family YMCA invites every school, homeschool and other organizations to participate in this wonderful program.
If you are interested in this program please contact Program Director, Charlie Myers at the Wopat YMCA Center, 645 Barks Road East, call at 740-725-9622 or e-mail cmyers@marionfamilyymca.org.
Column written by Charlie Myers, Marion Family YMCA Program Director and Grant Manager