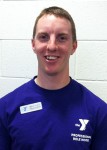 The holiday season is here and the start of the New Year is looming on the horizon. For many of us, that means the most hectic time of year.
At the Marion Family Y we understand how important it is for individuals to feel confident and satisfied with our health. We are here to help you facilitate that lifelong change to a healthier lifestyle. We can accomplish more and be more supportive to our friends and family when we feel good.
All of our coaches are well informed about safe execution, healthy workloads, and training efficiency. There is always a coach on duty in our Wellness Center who can assist you and answer any questions you may have while utilizing our facility. I mention all these things because I understand how badly many of us want to make a change in our lifestyles and you'll find out later why these things will help that.
When someone new to strength training (or returning after a long hiatus) enters the doors of a workout facility and takes a look around, they may be reminded of how long it's been since their last workout. It can be intimidating to step foot in a workout facility.
Unfortunately, many people make one of two choices when they enter a workout facility for the first time. They either (a) look at those individuals who are well-developed and decide 'I am way out of my league' and head out the doors. Or (b) mirror some one's workout that looks fit and knows what they are doing in hopes of looking like them. Unfortunately this latter choice will be overwhelming and too difficult on the body and doesn't take in account what is best for you.
Fortunately at the Y we provide wellness coaches to meet with all new members and help them develop an exercise routine that is appropriate for them. Having a coach who listens to you and understands your starting point and goals can be just the key many individuals need for success.  Although each of our members is unique and what the coach and member develop together varies from member to member, the following are general principles when starting an exercise program.
Warm up. Always start every routine with a mild warm up routine of 5-10 minutes of soft cardio or light plyometric. This gets the muscles ready for weight training by getting blood bumped into the muscle, which prepares it to be stretched.
Ask questions. Don't be shy or embarrassed if you don't know how to do an exercise. Ask someone who does. It is more important to execute an exercise properly, rather than jeopardizing your pride because you have to ask someone for help. Weight training is a complex activity–you are not expected to know everything. When in doubt ask one of our coaches.
Do not over train. It is important to get some rest from training. When lifting hard, you need at least 24 hours of rest for that muscle group you worked. Alternate muscle groups from day to day, that way you don't over work one muscle group, and you can maintain a daily routine without over working the body.
Build a Base.  You may have heard that it's good to change your routine in order to get the best results. While this stands true, it's also very important to build a base. It's important to allow your body to grow accustom to a workout routine. Especially if you are a new lifter, it may be at least 6 weeks before you have built a functional base and need to make any major changes.
Be Flexible.  As a personal trainer I run into the situation in which a member wants me to be like a doctor and prescribe a program with exact details. People build their own routines. If you allow yourself more freedom you will be more likely to maintain a routine. Tell yourself to get twenty minutes of exercise in today and you can do it in any form you want (Tennis, walking the dog, biking, etc.). On the days you feel good, go hard. On days you don't, go lighter.
Don't under train. You are here to get results. Don't sell yourself short. During weight-training it is important to train that muscle to complete fatigue. Push yourself! If this seems too intense remind yourself that you are allowing yourself to rest so make your workout out worthy of a rest.
Our hope is to see great results from all of our members. Here at the Y, we are behind you 100%. Please don't hesitate to use us as a resource in helping you accomplish your goals. We have a program at the Y that takes everything into account and plans a program for you, with your specific goals and strengths in mind, much like what I discussed above.  It's called ActivTrax: a free program to our members at the Y. Please stop in and ask us about it, or email me any questions you may have about your current workout routine.
Column written by Derek Wright, Marion Family YMCA Wellness Coordinator