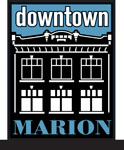 As you know, we at Downtown Marion, Inc. are dedicated to the revitalization of Downtown Marion.  What becomes even more abundantly clear to us as we progress further into this mission is the important of a vibrant downtown to the city's overall health.  One of the avenues that draws people in and helps them become enamored with a particular city is the walkability of the downtown area.
There are four basic elements to accomplishing this.  The first is to give people a reason to come downtown by ensuring you have a good mix of destinations.  Those would include offices, retail, dining, entertainment, housing, schools, worship, and parking.  The second is safety … both the reality and perception of it.  The third is to make sure the walk area is comfortable; and the fourth is to create an experience that is interesting.
A walkable downtown, however, is more than just nice sidewalks and a great array of stores and restaurants.  It's also the way the traffic flows in juxtaposition to those sidewalks.  In his book, Walkable City:  How Downtown Can Save America, One Step at a Time, Jeff Specks has a quote that pretty nicely sums it up.  "…whether intentionally or by accident, most American cities have effectively become no walking zones.  In the absence of any larger vision or mandate, city engineers – worshipping the twin gods of Smooth Traffic and Ample Parking – have turned our downtowns into places that are easy to get to but not worth arriving at."
That quote is a generalization of cities across America and is not specific to Marion.  However, what it does do is prompt us to take a critical and thoughtful look at how traffic flows through Downtown Marion.  Does it meet the four criteria?  This is just one of the things Downtown Marion will be addressing in 2014 to see what can be done in both the short and long term to make Marion a more walkable city.
Written by Karen Herr
Manager, Downtown Marion, Inc.