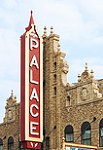 The Marion Palace Theatre is holding a mandatory orientation session on Saturday, June 26 at 10:00 am. This is for all current and potential Palace volunteers who have yet to attend one of the previously offered training sessions.
For long-standing volunteers, this meeting will provide information about important changes, including dress code, procedures, and how individuals sign up to help at the Theatre.
For those interested in finding out more about volunteering at the Palace, now is the perfect time to get in on the ground floor of a newly formatted volunteer workforce.
The volunteers are growing as an organization, and to help facilitate that growth, those attending the orientation will receive an updated manual, bylaws, and a signup sheet for volunteering at upcoming events.
Daniel Bradshaw, Events Coordinator, has overseen the volunteers since he started at the theatre in 2007.
"There's a lot of work that goes into events at the Palace," Bradshaw says, "and this group of dedicated individuals helps make each show happen. We want to find more people who will continue the great tradition of volunteering their efforts at the Palace."
A large list of positions is available when considering volunteering at the Palace. Those on staff are quick to note that volunteers can help in a number of ways beyond the show help from greeters, cashiers, popcorn poppers, ushers, projectionists, stage crew, and even maintenance workers caring for the Wurlitzer organ.
Additional help is needed on such things as painting, landscaping, window washing, filing, annual cleaning, and other non-show related tasks.
Volunteering at the Palace benefits not only the Theatre but also those giving of their time and efforts.
Bradshaw says many area high schools require community service hours for graduation. Community involvement plays a significant role in college and employment applications. It also serves as a social tool for networking and even friendship.
"Like everything at the Palace, it's about the experience," Bradshaw says. "Being there for the shows is nice, but it's the people you meet that really make this a great opportunity."
The Palace hopes to build its volunteer corps with people ranging from juniors in high school on up. Skill sets spanning several generations can be utilized in order to keep the historic theatre operating and growing.
For those who cannot make this meeting, future orientations will occur every 4-6 weeks so that everyone who wants to be a part of the Palace gets the opportunity to serve.
Interested participants are asked to contact Daniel Bradshaw to reserve a space for this orientation.
Those with questions can contact the Palace Theatre at 270 W. Center St. in downtown Marion or by phone at 740-383-2101.