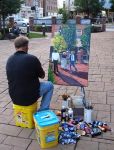 ArtWalk is in downtown Marion tonight (Friday, August 13). The monthly event features art displays and demonstrations. There is always plenty of art for sale as well. In addition, there will be live music in a variety of styles at three restaurants in the downton area.
New Beginning Cafe' presents Haiku, Heart Murmurs & Harmony. The evening of poetry and music features poets John (Jack) Vanek from Cleveland and Ben Rader along with musician S.A. Amstutz.
Vanek, of Cleveland, is a physician and award-winning poet who has published dozen of individual poems. His work, "The People's Republic" was inducted into the permanent collection of the George Bush Presidential Library, and reprinted in Red, White and Blues: Poets on the Promise of America by the University of Iowa Press. In addition to the Bush Library, he has read his work at the Akron Art Museum in Ohio, Eckerd College in Florida, and numerous public libraries and bookstores. It has been said of Jack that "He charms the reader with imagery and wry humor. Heart Murmurs is a very welcome collection from a confident, compelling poet".
Ben Rader, from Willard, is one of Ohio's foremost Haiku poets who will present the magic of this concise form of poetry, far from its Asian origin, that crosses many cultures. Ben reads his award-winning Haiku, as well as other free verse poems at a multitude of venues from art centers to bookstores to coffee houses to writers' workshops in north central and mid-Ohio. His work has found ink in many varied places, and he serves as an Associate Editor of Pudding House Publications. He presents dynamic Haiku programs at poetry conferences, most recently for the Write On Writes' Conference in Coshocton, Ohio. He is a lifelong bibliophile and lover of history, which fits in well with his being a librarian and history teacher at Willard High School. His personal book collection includes well over twenty thousand volumes.
S.A. Amstutz is the featured musician this month. Steve is a New Beginnings favorite friend, who will once again bring contemporary praise music that will relax and excite the evening in vocal and acoustic/electric contemporary sounds.
The Guild will have art demonstrations including pencil & pen line art, stamp making, acrylic and other media. New fine art gifts and crafts will be on display at this location, next to Books on Center.
Lynnette's Loft will feature new artists on Church Street. This Marion shop is also home to many artists from the Mid-Ohio Fine Arts Society.
Baries Deli on Main will host art panels from the Marion Art Project, a beautification effort for many downtown locations with more to come. The restaurant features Argentinean and American food.
Jed Sparks is back this month for an encore performance with the Cool Jazz sounds. Jed plays the old school style of blues where you can hear the roots of jazz & rock music. Jed grew up in the back room of a truck stop. In the 1950s & early 60s everything on the juke box was his early influences; Blues, Pop, Country, Jazz, R&B. After 50 years of playing for the public he says, "I still enjoy playing on street corners, when people stop to listen, they are really into your music."
Charleston Place this month will feature the work of regional artist Steve Burgett from Plymouth, Ohio. Steve works with large canvas expressions in oil & acrylic reminiscent of impressionist old masters with subject matter inspired by nature, landscape, and bright splashes of flowers.
Party in the Park will offer food from the local restaurants & food vendors; live art demos and welcomes musicians and performers of any genre to join in. For details, contact Ben Kern at The Guild.
Art Walk Downtown Marion is coordinated through a committee of Marion Downtown Inc. a 501(c)(3) not for profit organization. Your tax deductable donations may be ear marked for Art Walk Downtown Marion. Volunteers, schools, organizations and other merchants wishing to participate or contribute to Art Walk Downtown Marion should contact Elaine Merchant, acting Manager for Marion Downtown Inc.
For more information on Art Walk, visit www.ArtWalkDowntownMarion.org.
Image: Mansfield artist Steve Burgett painting in Busby Park during the July ArtWalk.