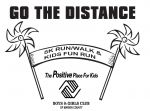 The Boys & Girls Club of Marion County is inviting everyone to "Go the Distance" for local kids and join them for their 5k Run/Walk and Kid's Fun Run on Saturday, April 7, 2012. Proceeds from the run/walk will help the non-profit group in their efforts to provide assistance to children in Marion.
Boys & Girls Club of Marion County offers mentoring and afterschool programs at every Marion City School elementary building and, starting April 1, at Grant Middle School.
The Saturday event takes place at Marion County Children Services, 1680 Marion-Waldo Rd., in conjunction with their annual Pin Wheel Play Day.
The Kids' Fun Run, for those 11 years and under, is free. Racers will receive a ribbon, a bowling certificate from bluefusion entertainment center, and more. Youth size t-shirts will be available for purchase at the race.
The 5k Run/Walk is $20 for those who pre-register or $25 on race day. A free t-shirt is guaranteed for those registered by March 30, 2012. Awards will be given for category and overall winners.
You can pre-register online at Premier Sports (www.premierraces.com) or in person at the Boys and Girls Club office, 370 E. Mark St., Marion) and at any Fahey Bank branch office. You can download a registration form at www.bgcmarion.org.
Registration opens at 8:30 am on race day. The Kid's Fun Run starts at 9:30 am and the adult 5k starts at 10:00 am.
For more information on the Go the Distance event or other programs offered, call the Boys & Girls Club of Marion County at 740-387-3462 or online at www.bgcmarion.org. You can also learn more about Pin Wheel Play Day at www.marionkids.com.