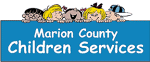 Marion County Children Services will be hosting training classes for prospective foster parents and those looking to adopt. The classes begin May 1 and run through May 19. If you have ever thought of being a foster parent, there is still time to sign up.
The weekday classes begin at 6:00pm while Saturday classes begin at 9:00am and 1:00pm.
There is no cost to take the classes. If you cannot attend class on a particular day, there are opportunities to take those classes later, either in Marion or in a nearby county.
The training schedule includes:
Tuesday, May 1: Orientation to Foster Care, Adoption and Kinship Care
Thursday, May 3: The Child Protection Team
Saturday, May 5: The Effects of CA/N on Child Development
Attachment, Separation and Placement
Tuesday, May 8: Managing Behavior
Thursday, May 10: Preventing and De-Escalating Crisis
Saturday, May 12: Cultural Issues in Placement
Understanding Primary Families
Tuesday, May 15: Children Who Have Been Sexually Abused
Thursday, May 17: The Effects of Caregiving on the Caregiver Family
Saturday, May 19: Permanency for Children
Permanency for Families
For more information or to pre-register call the Placement Unit at 740-389-2317 or email moreinfo@marionkids.com