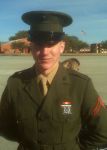 As if serving his country wasn't enough, Marine Corporal Brandon Makowski says he wanted to find a way to give back and help local kids. The Waldo native came up with the idea of collecting pledges for him to complete a long-distance run during his Pre-Deployment leave. This is not your ordinary run; he will complete a 10-mile trek from Waldo to Marion with a 50-pound rucksack on his back.
Before leaving for Afghanistan, the Corporal says he wants to give back to his community, specifically a program that benefits kids and helps them reach their full potential. With these criteria in mind, he chose the Boys & Girls Club of Marion as the benefactor of his efforts.
"The Club is honored to have been chosen and grateful that this hero picked our kids to benefit from his efforts," said Club Director Allison Miracle.
Makowski will begin his 10 mile run on Friday, April 13, 2012 at 8:30am from the Fort Morrow Fire Department in Waldo. He will follow State Route 423 north to Marion and end at Veteran's Memorial Park on Delaware Avenue. At 11:30am, the Boys & Girls Club is inviting the community to gather at the Park to welcome Corporal Makowski in from his run. A brief ceremony will follow thanking him for giving back to his community, and ultimately to his country.
Makowski will be soliciting pledges up until race time and pledge sheets will be making their way around the community.
You can make a donation today by calling the Boys & Girls Club at 740-387-3462 or by visiting their website, www.bgcmarion.org, clicking on "Get Involved" and utilizing the donate option.