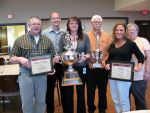 The Marion Area Safety Council held its 60th Annual Safety Awards Luncheon in cooperation with the Bureau of Workers' Compensation Division of Safety and Hygiene on Wednesday, May 9th at The Ohio State University at Marion Alber Enterprise Center.
State awards presented included:
100% Awards to companies that worked the entire year without a lost-time injury or illness;
Achievement Awards to companies that decreased their incident rate by 25% or more over the previous year;
"Group Awards" to companies with the lowest incident rate in each group;
Special Awards to companies that accumulated at least 500,000 hours and at least six months without a lost time accident.
The Marion Area Safety Council also awarded the John F. Lacey Memorial Safety Award to Whirlpool Corp. Whirlpool was also awarded the Achievement and Special Award with over 3.8 million work hours without an accident.
Pictured – (from left) Travis Cluff, Mark Morrissey, Mary Beth Greendonner, Dale Woods, Heather Ward and Barb Klee accepting the trophy for Whirlpool.