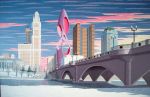 The 20th annual Celebrate Summer will be held this Saturday, June 23, from 10:00 a.m. – 4:00 p.m. on West Center Street in Downtown Marion. Featuring something that will interest everyone in your family, the Festival will include art, music, antique cars, food, a large children's area, and more.
The traditional art show will continue with handmade items of all types, including paintings, beaded and polished rock jewelry, fiber art and more.
Several new highlights this year will be a Featured Artist Exhibit and a Student and Emerging Art Tent. The Featured Artist Exhibit will showcase the works of four accomplished Marion artists: Art Beery, Jay Johnston, Leah Lawrence and Alan Reeve.
Beery's work (pictured above) is recognized and appreciated internationally. Over the past fifty years, his painting style has ranged from traditional to experimental, from representational to surreal. Some of his more famous work is characterized by the placement of futuristic curved "mobius" structures within our current land and city scapes. He has won numerous national and international awards, and his work hangs in museums and prestigious private collections across the globe.
Johnston is best known for his extremely detailed and life-like oil paintings usually depicting aspects of American life, including portraiture, wildlife, the Old West, and sports scenes, including his famous Ohio State Buckeye football paintings. He's won numerous awards, and recently had a painting sell at charity auction for $11,000.
Lawrence's paintings feature strong vibrant line, color and texture with a spiritual undercurrent and symbolic themes. Over the past 20 years, her work has earned awards and has been featured in exhibits and private art collections. Aware of the importance of art as therapy, Lawrence currently facilitates art workshops with NAMI (National Alliance on Mental Illness).
Reeve has been teaching a number of art forms at Marion Catholic High School for the past 12 years, including drawing, painting, sculpture, computer graphics, photography and photojournalism. His work ranges from photorealistic figure/portraiture to three-dimensional clay caricatures, and demonstrates a mastery of many mediums including graphite, paint, digital and clay.
This exhibit will be located in the APEX Church's Activities Center, known locally as the Uhler Building.
A tent for Student and Emerging artists will showcase students and artists that are not yet established. Artists may enter items by the piece, $10 for adults and $5 for students high school and younger. Artists may wish to only exhibit their pieces, or they can set a price if they wish to sell.
For the fourth year, a different type of art will again be blended as the Marion Historical Society will bring their pre-1950 Car and Truck Extravaganza to the festivities. Owners of these vintage original pre-1950 cars and trucks will be coming from near and far to share their restored vehicles with Celebrate Summer attendees. Activities include a reception Friday evening at Marion's Historic Palace Theatre for pre-registered vehicle owners, and nationally known organist, Dave Calendine, providing enthralling musical accompaniment to two classic silent movie films on Saturday. Events at the Palace are sponsored by Primrose of Marion. The number to call for information on this elite car show is 740-389-6214.
Back again after an absence of several years will be music. The Paul Lyons Band will play from 11:00 a.m. – 2:00 p.m. in the food court area.
Also on tap, will be old-fashioned Monkey Organ Grinders, the 19th century penny-farthing, high-wheel bicycles, and an expanded Children's Area by Family Life Church –the same group who does the Fall Blast for kids every year. The Marion Hobby Club, Marion Camera Club, Bits and Pieces Quilting Guild, and Mid-Ohio Fine Art Society with have displays. Many of the downtown business will be open with Celebrate Summer specials, as well.
There is still time to be a part of Celebrate Summer. Complete information, as well as registration forms, can be found at www.CelebrateSummer.org Perspective art and car participants may also call 740.382.2181 for information.