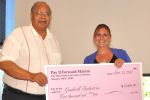 Ohio State Marion students awarded nearly $5000 in grants to area charitable organizations through fundraising efforts in 2012, while gaining knowledge on the framework of "Paying it Forward." Thanks to increase support, the program expects to donate even more funds next year.
Students and faculty from The Ohio State University at Marion, Pam Stone, executive director of the United Way of Marion County, and a representatives from area non-profit organizations, recently came together in Maynard Hall's Guthery Community Room to celebrate the successful conclusion of the campus's 2011-2012 Pay It Forward Program.
Pay It Forward Marion brings together the resources of The Ohio State University at Marion, and the United Way of Marion County for the benefit of local area non-profit organizations.
After a year of fundraising, reviewing grant proposals, and research, students awarded grants totaling just shy of $5000 to selected community organizations. During the annual banquet, students discussed their research, their volunteer projects, and ultimately what contributed to their final decisions of which organizations to award funds.
Goodwill Industries was awarded $2000 to help fund their re-entry program, which helps ex-offenders transition back into society and find stable jobs.
The Marion Shelter Program was awarded a grant for $1967 to buy 2 washing machines and a chest freezer for the shelter.
Center Street Community Clinic received a grant award for $653 to purchase a computer to help new patients provide proof of income and apply for additional benefits, thereby expediting health care access for patients.
The Boys & Girls Club of Marion County was presented items collected by students on campus to assist in the clubs summer activities.
The Salvation Army benefited from a donation of toiletry and personal items for families being served by the organization's local food pantry.
Thanks to a 2012 Ohio State Outreach and Engagement Impact Grant in the amount of $10,250, Pay It Forward Marion efforts will likely expand and be even more impactful in 2013.
With the addition of the grant from Ohio State and group fundraising efforts, students hope to provide $14,000 in grants to the community at the end of the upcoming academic year.
Pay It Forward Marion links students in six different English courses at Ohio State Marion with area non-profit organizations and their individual causes. Students learn details about the importance of philanthropy, grant writing, volunteering, and fundraising through direct work with regional cause driven charitable organizations.
As part of Ohio State Marion's course-based, service-learning initiative, Pay It Forward Marion's purpose is to promote civic engagement in English courses ranging from beginner to advanced, and to improve the local community through skill-based service and philanthropy.
The program is a collaboration of Ohio State Marion English faculty members Stuart Lishan, Ben McCorkle, Cassandra Parente, Alexis Martina, Amy Tibbals, and Catherine C. Braun, in cooperation with the United Way of Marion County.
The program utilizes beginning writers, who will apply their burgeoning research, writing, and rhetorical skills, to examine community needs and develop fundraisers to increase available funds. Their findings and funds will be passed along to intermediate writing students, who will research and volunteer at local non-profit organizations responding to the identified community needs, promote the Pay It Forward Marion project, and collect Requests For Proposals (RFPs) from area non-profit organizations. Students in advanced classes will receive these materials, analyze proposals, engage in more in-depth research at the non-profits seeking funds, and create multimodal arguments about how to distribute the funds.