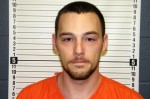 The Marion County Prosecutor's Office says a suspect in the Marion murder of a woman was offered and accepted a plea agreement. As part of the agreement, on Monday morning, September 24, Judge Robert S. Davidson sentenced Bo Cook to 20 years in prison for his role in the February 8, 2012 shooting death of Amy Aldrich.
Cook, age 25, pled guilty to charges of Voluntary Manslaughter, Having a Weapon Under Disability, and Tampering with Evidence. He was arrested February 15 and was scheduled to go on trial October 1, 2012 on charges of complicity to aggravated murder and other lesser offenses.
Aldrich, age 30, was the mother of three children including a young daughter she shared with Cook. She was originally from the Marion area, but recently was living in Paulding County. She was back in the Marion area to attend a hearing related to the custody of that daughter when she was murdered.
During the initial investigation, the Marion Police Department developed two suspects, Cook and Raymond Bertuzzi. A search warrant executed at Cook's home on Plymouth Street recovered three firearms, which, because of a prior felony drug conviction, Cook was legally prohibited from possessing.
The Prosecutor's Office says that following his arrest, while being searched at the Multi-County Correctional Facility, Cook flushed suspected drugs down a toilet before corrections officers could seize them.
The Marion County Grand Jury indicted Cook and Bertuzzi on a host of charges, with Cook's charges primarily being complicity to premeditated murder, illegally possessing firearms, and tampering with evidence.
The Prosecutor's Office says the joint indictment alleges that Bertuzzi is the one who committed the actual murder of Aldrich. His trial is scheduled for November 5, 2012.
Because the case of Cook's co-defendant is still pending, the Marion County Prosecutor's Office says they cannot comment on the details of the evidence or the investigation. However, they say the decision on whether to take Cook to trial or to accept a plea agreement was a difficult one.
The Prosecutor's Office says that after thoroughly reviewing the evidence, evaluating the possible risks and outcomes of a trial, and after discussing the matter with members of the victim's family, the decision was made to offer Cook a 20-year sentence in exchange for his guilty plea.
"As part of the plea agreement, the Prosecutor's Office will oppose any attempt at early judicial release, meaning that Cook will spend the whole time behind bars," stated Marion County Prosecutor Brent Yager. "While not a perfect outcome, especially given the horrific nature of the crime, the Prosecutor's Office believed that the length of the prison term and the certainty of conviction brought about by the plea agreement was an acceptable resolution in light of the range of possible outcomes at trial."
Cook was represented by Marion attorney Todd Anderson.
Yager said he and his office wanted to express their appreciation to the efforts of the Marion Police Department, "particularly Major Bill Collins for the relentless effort of his team of investigators to bring this killer to justice."