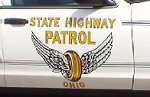 A Marion man was killed early Saturday morning when he was hit by a car while riding a bicycle on Fairground Street at just after midnight. The Marion Post of the Ohio State Highway Patrol says the crash occurred at 12:14 am in the area just east of Likens Chapel Road.
The Patrol says John Kearns, Jr., 20 years old of Marion, was driving a 1998 Honda Civic west on Fairground Street and was attempting to overtake and pass another westbound vehicle. Nathan Smith, 18 years old of Marion, was riding his bicycle west, but was in the eastbound lane.
Investigators say Smith was struck from behind by Kearns and was ejected from the bicycle. Kearns drove off the south side of the road. The Patrol says while Kearns initially left the scene, he did return. He was uninjured in the crash.
Smith was transported to Marion General Hospital where he was pronounced deceased. The Patrol says he was not wearing a helmet or any other safety equipment at the time of the crash.
The Ohio State Highway Patrol was assisted by the Marion Township Fire Department and the Marion Police Department. The crash remains under investigation.