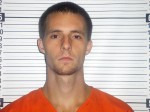 The Marion County Adult Probation Department is seeking 23-year-old Dylon Buckner for a probation violation. He is a white male, 6'1″ tall and 165 lbs with brown eyes and brown hair. His last known address is 874 Robinson Street in Marion.
Buckner was placed on Community Control in August of 2012 for a Possession of Heroin conviction and has stopped reporting to his Probation Officer.
If you know of Buckner's whereabouts you may contact the Adult Probation Department anonymously at 740-223-4230 or you may contact local law enforcement. The Tip Line is available 24 hours a day at 740-375-TIPS.