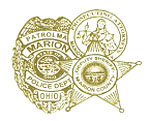 The METRICH / MARMET Drug Task Force says an alleged drug dealer was arrested on Wednesday, February 27, 2013, along with two other individuals following the execution of a search warrant. Officials also say an aggressive dog had to be shot during the raid.
On Wednesday, members of the METRICH / MARMET Drug Task Force along with the Marion County Sheriff's Office and the Marion Police Department served a search warrant at 133 Johnson Street. Officers say they arrested the suspected drug dealer as he was running out the back door. Several other people were located inside the residence.
While serving the warrant, officers say they encountered an aggressive Pitbull dog which was shot during entry to the home. No officers were injured but the dog died. The Marion County Dog Warden assisted at the scene.
Detectives say they located 5.5 grams of heroin and $1900 in cash.
Those arrested included DeJuan Thomas, 25 of Chicago, IL, for Trafficking in Heroin, Robert Smith, 52 of Marion, for Permitting Drug Abuse and Drug Abuse, and Evan Steele, 21 of Marion for Drug Abuse.
"The METRICH / MARMET Drug Task Force continues to work hard to combat Marion's heroin problem," said Lt Chris Adkins. He encourages anyone wishing to leave information on a drug house to call the Tips Line at 740-387-TIPS.