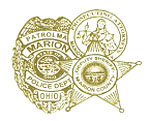 Marion law enforcement officials say various sources and leads led them Tuesday to execute a search warrant which resulted in the arrest of a man for trafficking in heroin and the seizure of drugs and cash.
At approximately 12:00 noon on Tuesday, February 19, 2013, the MARMET/METRICH Drug Task Force and officers from the Marion Police Department and Marion County Sheriff's Office executed the search warrant at 148 Kenmore Avenue in Marion.
Officials say the search led to the discovery of nearly 10 grams of heroin and over $4,000 in cash.
Michael D. Blythe, of Detroit, Michigan, was found in the home and arrested on charges of two counts Trafficking in Heroin, one count of Possession of Heroin, and two outstanding arrest warrants.
"This marks the fourth heroin raid in less than a week and the trend will continue," promised Major Bill Collins.
Anyone with suspected drug information is urged to contact the Marion TIPS Line at 740-375-TIPS (8477).