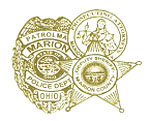 The MARMET Drug Task Force and Marion Police Department say they executed a search warrant on Friday, February 8, and raided the home of an alleged heroin dealer at the rear of 188 Elk Street.
Detectives say they seized approximately 28.3 grams of heroin, 11 pills, $2,250 in cash, and other items of an "evidentiary nature."
According to Major Jay McDonald, the amount of heroin seized would normally result in a 2nd degree felony, but because the drugs were found in the presence of children, it becomes a 1st degree felony and carries a potential penalty of 3 to 10 years in prison.
"MARMET continues to aggressively seek out those who sell drugs in our community," stated Lt. Chris Adkins. "This case is even more troubling because that much heroin was found in such close proximity to two young children."
Police say Marion County Children Services was participating in the case due to the children involved.
Casey Taylor, 37, of the Elk Street address, was arrested and transported to the Multi-County Correctional Center. Police say Taylor was out on bond and awaiting trial on previous heroin and weapons charges when he was arrested Friday.
The case is being forwarded to the Marion County Prosecutor's Office for formal charges.