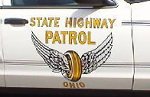 Troopers from the Marion Post of the Ohio State Highway Patrol are investigating a two-car fatal crash that occurred at the intersection of US 23 and Linn-Hipsher Road in Marion County at approximately 4:38 pm on Monday, February 11, 2013.
The crash involved a 2004 Ford F-150 pick-up driven by 77-year-old Joseph Weiler of Bucyrus.  The second vehicle was a 2005 Dodge Neon, driven by 70-year-old Betty Stone of Marion.  The front passenger of the Ford F-150 was 70 year-old Lois Weiler of Bucyrus.
The Patrol says preliminary investigation indicates that Weiler's pick-up was traveling southbound on US 23 in the right lane.  Stone's vehicle was traveling westbound on Linn-Hipsher Road and failed to yield for traffic while attempting to cross the southbound lanes of US 23.  Stone's vehicle was struck in the passenger side by Weiler's truck.  Both vehicles came to rest in the southbound lanes of US 23, just south of Linn-Hipsher Road.
Mr. and Mrs. Weiler sustained injuries as a result of the crash.  Both were transported to Marion General Hospital by Stofcheck Ambulance Service.   Stone, also transported by Stofcheck Ambulance Service, sustained fatal injuries and was pronounced dead at Marion General Hospital by Marion County Coroner Marc Comianos.
The State Highway Patrol was assisted at the scene by Salt Rock Township Fire Department and the Wyandot County Sheriff's Department.  The crash remains under investigation.