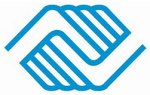 Marion Harding's National Honor Society (NHS) recently chose the Boys & Girls Club of Marion County as the beneficiary of their fundraising efforts which raised $1,604. The students raised the vast majority of the money by hosting a Winter Formal dance.
NHS members developed the concept for the dance, designed the decorations, and enlisted faculty to volunteer their time as chaperones. They increased their fundraising further by sponsoring a contest to crown a male and female faculty member as the King and Queen of the Winter Formal.
"The donation comes as a perfect time as we transition into a traditional Clubhouse at the former Oak Street Elementary," explained Allison Miracle, Executive Director of the Marion club. "Boys & Girls Clubs of America has been documenting great successes utilizing a setting such as this for over 100 years and we are excited to bring that to Marion."
The NHS donation to the Boys & Girls Club of Marion County will help at the new club building in several ways, including clean up of the outside of the building, increasing security measures, creating an inviting entry way, adding kid friendly colors to the walls, and supplying rooms with some of the equipment they require.
To learn more about the programs offered at the Boys & Girls Club of Marion County, or to register for the upcoming Summer Program, visit www.bgcmarion.org or call (740) 387-3462.