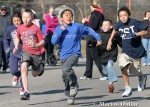 The Boys & Girls Club of Marion County recently held their second annual Go the Distance 5k Run/Walk and Kids Fun Run. The event was held in conjunction with Marion County Children Services Pinwheel Play Day on April 6th, 2013 and raised over $3,000 for the local club.
Allison Miracle, Executive Director of Boys & Girls Club, said they were honored to be able to hold their run during the play day again this year, explaining, "As an organization that serves kids, we understand the seriousness of child abuse and feel it is extremely important to bring public awareness to the issue."
100 runners and walkers registered for the 5k and 33 kids took part in the fun run.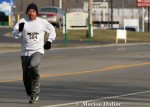 Jose Gonzales (pictured at left) had the fastest time at 18:58. He was followed up by David Jividen (19:12) and Mark Simon (20:19). Jenni Myers (pictured below) was the fasted female runner and placed fifth overall with a time of 20:29. Other top females were Morgan Lott (22:05) and Christina Lust (22:23).
You can view all the race results by visiting http://www.premierraces.com/viewresults.asp?resultsID=1531
Sponsors included the Y-Men Services Club, Kohl's Cares, and Modern Woodmen of America.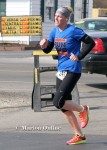 The Boys & Girls Club has been active in Marion since 1996, working to enable all young people, especially those that need us most, to reach their full potential as productive, caring, responsible citizens. In 2012, they served 733 children through their after-school and summer programs. Of those, 40.7% reported living in a single parent household and 58.2% reported qualifying for free or reduced priced lunches at school.
You can learn more about the programs at the Boys & Girls Club of Marion County and sign up for the upcoming summer program by visiting www.bgcmarion.org or calling 740-387-3462.