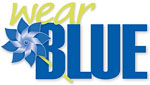 Marion County Children Services is urging the public to participate in Wear Blue Day on Wednesday, April, 10, 2013. They say by wearing blue, you can help "be a voice for a child" and speak out against abuse and neglect.
"With the cases of child maltreatment on the rise, we need to take a stand as a community," explained Jacqueline Ringer, children services executive director. "We want to engage you as our partner in raising awareness about child abuse and neglect. So together, we can show a united effort in preventing child abuse."
Children Services asks that you take a creative picture of yourself, your group, team or company wearing blue and email it to them for their photo gallery on Facebook. Email photos to moreinfo@marionkids.com.
You can click here to like them on Facebook to stay up to date on their programs and to see the submitted pictures.
For more information on Marion County Children Services, visit www.marionkids.com