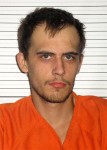 The MARMET/METRICH Drug Task Force says they arrested a Marion man on Thursday, April 4, 2013 after finding that he was transporting heroin from Detroit into the City of Marion to sell.
On Thursday at about 3:45pm, members of the MARMET/METRICH Drug Task Force with the assistance of the Marion County Sheriff's Office and the Marion City Police Department stopped a vehicle at the intersection of East Church Street and Summit Street. During a search, detectives say they located 15.4 grams of heroin.
25-year-old Richard Franklin Jr. of Marion was arrested. Officials say the preliminary investigation found that Franklin had just returned from Detroit, Michigan with the drugs which were intended to be sold within the City of Marion. 15.4 grams of heroin was seized.
Richard was taken to the Multi-County Correctional Center on a charge of Trafficking in Heroin. The case is being forwarded to the Marion County Prosecutor's Office for the filing of formal charges.
"This is another great example of law enforcement in Marion working hard to take drugs off the street," stated Lt. Chris Adkins of The MARMET/METRICH Drug Task Force. "This is the second large seizure of heroin in just over a week."
Lt. Adkins says that anyone wishing to report criminal activity should call the TIPS line at 740-375-8477. Information may be left anonymously.