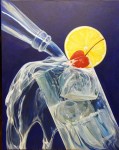 The Mid-Ohio Fine Arts Society, and Federation of Women's Club Home, is proud to present Birds, Pebbles, and The Human Form (a one day, one person showing) featuring the work of regionally know artist William Obenour.
The showing on September 21, 2013 is one of a monthly series of work being shown at the new Barlow Art Center Gallery, 1126 E. Center St., Marion, Ohio.
Admission is free.
Hours are 11:00 am to 4:00 pm. Donations are accepted and appreciated.
Guided tours of the historic Barlow Home will be available during the show.
For additional details, go to www.MidOhioFineArtSociety.org or call 740-361-0148