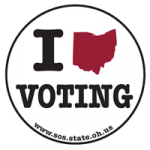 Registered voters can go ahead and cast their ballot in the 2013 General Election as the early voting period started on October 1. Those individuals not already registered to vote still have time. New voter registrations will be accepted through Monday, October 7, 2013.
Those interested may cast their votes at the Marion County Board of Elections Monday through Friday from 8:30 am to 4:30 pm through November 1, 2013. In-person absentee voting will not be available on Monday, October 14, during the observance of Columbus Day.
Remember, the last day to vote absentee in-person is Friday, November 1, 2013 at 6:00 pm (office hours will be extended for this final day).
If you would like a traditional paper absentee ballot mailed to you, you must submit that request in writing to the Board of Elections office at 222 West Center Street, Marion, OH 43302. Request forms are available at the Board office or online at www.marionelections.com. No phone, emailed or faxed requests are accepted.
The request must be signed by the voter and must provide the birth date and one of the following:
Voters Ohio driver's license number,
or the last 4 digits of voters' social security number,
or a current and valid photo identification, a current utility bill, bank statement, government check, paycheck or other government document that shows your name and address.
Voters who find themselves hospitalized on Election Day because of medical emergency may apply for absentee ballots until 3:00 p.m. election day.
Absentee ballots, other than those from out-of-country, must be received by the board by 7:30 pm election day.
Register to Vote or Update Your Address
The deadline to register to vote for the November 5 General Election is October 7, 2013 (30 days prior to the election). Voter registration forms are available at MyOhioVote.com, the Marion County Board of Elections, and other designated agencies, such as libraries and BMVs. Should voters have moved since the last election, they should also act now to update their voting address online at MyOhioVote.com.
You can also visit the Marion County Board of Elections website where they have tools to check your voter information, find your polling place, and print off absentee ballot requests. Click here to view the tools.
Become a Poll Worker
David Little, Executive Director of the Marion County BOE, said they are always looking for new poll workers. Poll workers are paid for training and for working during Election Day.
"It's a great opportunity to provide a public service," said Little.
For questions or more information, call the Board of Elections office at 740-223-4090 or visit www.marionelections.com.