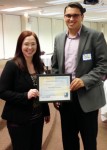 Goodwill's Annual Meeting and Awards Banquet was held on Thursday, Oct. 3rd. The event is held to reflect on the past year and to honor program recipients, volunteers, and community partners for their commitment to Goodwill's mission.
Roughly 115 people were in attendance at this year's meeting held at TRECA.   Those present included employees from the five counties, Goodwill board members, and community partners.
Amy Parsell and Jacob Johnston of Verne Hart Insurance (pictured) accepted the Community Partner Award.  Matthew Tway, Board President, was recognized for his service on the board and several Goodwill retail stores were recognized for their achievements in the past year.
Bill Sims, Jr. was the featured speaker at the event. Bill is the President of the Bill Sims Company, Inc. For more than 40 years, the Bill Sims Company has created behavior based recognition programs that have helped large and small firms to inspire better performance from employees and increase bottom line profits. He is a world renowned keynote speaker and also conducts leadership workshops globally.
Bills first book, entitled Green Beans & Ice Cream – The Remarkable Power of Positive Reinforcement, is based on his experience having built more than 1,000 recognition programs at firms including Dupont, Siemens VDO, Coca-Cola and Disney to name a few.
Several organizations helped sponsor this year's event including: Fifth Third Bank, Marion Wealth Management Group, Nucor Steel Marion, Verne Hart Insurance, Wyandot, Inc. & Fahey Bank.
The meeting stressed that Goodwill is more than just a well-known chain of retail stores, but is also a tradition, a tradition of donating, recycling, hope, and of growing through community involvement.  Most of all, it's a tradition of helping people with barriers to employment gain independence.
If you would like to learn more about Marion Goodwill Industries serving Marion, Delaware, Union, Crawford, and Morrow Counties, visit their website at www.mariongoodwill.org or call the corporate office at (740) 387-7023.