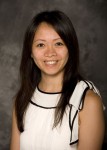 Jackie L. Quach, MD, has joined OhioHealth Marion Area Physicians and is now accepting patients. Dr. Quach specializes in general pediatric care, treating newborn to adult, with an emphasis on educating children and their families about maintaining a healthy lifestyle while keeping in mind that each family is unique in its beliefs and customs.
"I love working with children, watching them develop and grow, and building long-term relationships with them and their families," says Dr. Quach. "Relationships are strengthened through continuity of care and my goal is to be easily accessible and approachable for my patients."
Dr. Quach received her medical degree from The Ohio State University College of Medicine, Columbus, Ohio. Her internship and residency were completed at Children's Hospital of Los Angeles, Los Angeles, California. She is a member of the American Medical Association and the American Academy of Pediatrics.
Dr. Quach joins the pediatric practice of Syed Bukhari, MD; Jonathan Friedley, MD; Leonard Janchar, MD; Steven Lee, MD; Rashmi Shekhawat, MD, and Julie Cimino, CNP. The practice provides comprehensive healthcare to children of all ages from birth through adolescence.
To make an appointment with Dr. Quach, or for more information, please call (740) 383.8090 or toll-free 1 (800) 282.6741. The Pediatric department offers Saturday hours. More information about OhioHealth Marion Area Physicians can be found at OhioHealthMarionAreaPhysicians.com.